This was my first time trying out this little random number generator...and here are the results.
And the winner is Ashley M! Send me a message with your wishlist of $30 worth of kits from my
etsy shop
.
For those that didn't win, I am having another giveaway this month. I am super excited to be participating in Design Gals 12 Days of Christmas Giveaway. Can't wait to see all the prizes she has lined up! Good luck to all who enter!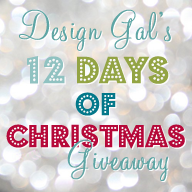 I've been very under the weather the past couple of weeks and am behind on all the freebie kits I had lined up to post here. Look for them throughout December as I get caught up.